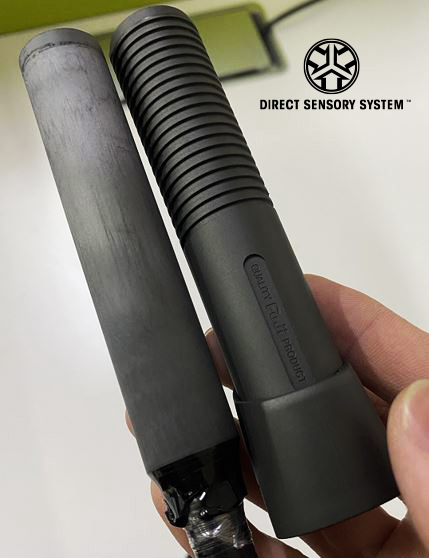 As fishermen, we know that having a good feel for what's happening at the end of our line is crucial to our success. We want to know every little detail, from when a fish gently mouths our bait to the feeling of a hard rocky bottom or reef. That's why Temple Reef has developed the Direct Sensory System™ (DSS) – a groundbreaking and meticulous method of rod construction that enhances sensitivity and feel.
Our hands are incredibly attuned to vibrations transmitted via the line, to the blank and ultimately the reel seat. With advances in low-stretch braided line and highly sensitive carbon fibre blanks, we have made great strides in improving sensitivity. However, the traditional construction techniques used in reel seats have been the weakest link, causing vibration loss and information loss right where we hold the rod.

In traditional rod construction, plastic, foam or masking tape are used to build up the blank under the reel seat. These materials are soft and flexible, and therefore dampen and absorb critical vibrations before they reach our hands.
To solve this problem, Temple Reef has incorporated a meticulously crafted carbon fibre arbor into our rods, which is fused to the blank during the manufacturing process. This creates a single homogeneous piece that the reel seat can sit on without the need for masking tape or foam fillers. This design ensures that every vibration and feedback is transmitted faithfully and accurately to your hand, giving you ultimate feel and touch.
With DSS, anglers can feel the most subtle of sensations and know exactly what's happening, when it's happening, and why it's happening. Our commitment to innovation and improvement has resulted in a fishing rod that delivers an unparalleled level of sensitivity, allowing you to make the most out of every fishing trip.
Thank you for considering Temple Reef for your fishing needs. Experience the Direct Sensory System™  (DSS) today and take your fishing to the next level.